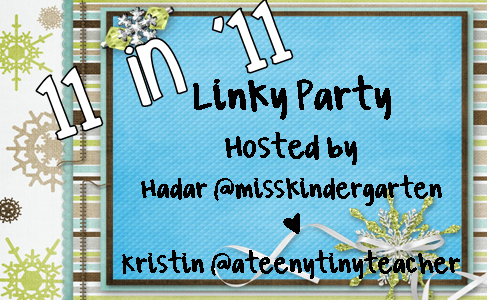 I decided I needed to link up to this awesome party! So here goes.....
11. Favorite movie you watched:
The Help - (Although The book was so much better!)
and Michael Westen (or

Jeffrey Donovan

) is super cute!
8. Favorite new thing you tried:
Blogging! I was scared at first, but I am soooo addicted!
7. Favorite gift you got:
One of my Kinder students donated a water well to a third world country in my name. It will give fresh water to over 300 people. I felt so honored! When I opened the card, I just cried.
6. Favorite thing you pinned:
So cute! I sooo need to make this! :)
Wow - I kinda feel like each post is like my kids - I can't pick a favorite.
Having my family's recipe on posted on another blog!
My family at Thanksgiving
2. Favorite memory:
My daughter receiving an award for all A's all year and on the same day, my son graduating from preschool! I was a proud Mom! :)
(I do love Miss Kindergarten's goal.. "
Laugh a lot, learn a lot and live life to the fullest! That pretty much sums it up!"), but I would have to say I would love
to open a teacher store!
This has been a great year! Here's to 2012!
Here's to sending happy thoughts your way! :)