I hope everyone had a wonderful Christmas! I know I did! It has been so nice lounging with my husband and playing with my two kids! We made handprint ornaments, Gingerbread playdough, and lots of treats to eat! We visited family and opened lots of gifts! I love seeing everyone so happy! This is such a WONDERFUL and MAGICAL time!
I had MJ of Teaching in Heels and I gave her a cute bulletin board and purple blingy earrings:
I opened the best present! My Secret Santa (Kelly of Busy in Kindergarten) gave me this beautiful item:
Thanks Kelly! I LOVE it! Can't wait to add my car keys to it! :)
My husband opened up this great item my 12 year old daughter painted:
(She is so talented! I am a proud Mom!)
Thank you Caitlin of Ms. Preppy and Sarah of Kindergarten Korner for putting together the Holly Bloggy Christmas! It was so much fun! I hope we do it again next year! :)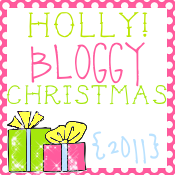 I hope you had a Magical Christmas and have a wonderful New Year!
And I have received numerous awards - Thank you to everyone! Sorry I haven't posted sooner - I will make that my next post - right now I am enjoying my holidays with my family! :)