I hope you loved the Heart Man I posted last night :) Here is
another cute item I have my class make every year. I stamp their thumb on a red stamp pad and then criss cross their thumb prints to make a heart shape. (The poem is not my original work, so if you know who wrote it, please let me know so I can give proper credit. Thank you!) I have left it in Word so you can edit the year each year. :) I usually try to take a picture of the child, put it on the front next to the thumbprint and have them write I love you on the back. Then I laminate them and put a magnet on the back so they can hang it on their fridge.
Valentine Poem for Parents in Word
Don't forget to follow me. I am having a giveaway soon... Here is a sneak peek:
Speaking of Giveaways....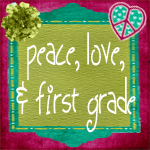 Peace, Love & First Grade is having a 50 Follower Giveaway! You could win a $10 TpT gift card to buy some of her rockin' products! Please check her out and leave her some love! :)
Kindergarten Lifestyle is having a giveaway where everyone wins! If you leave your email in her comments, she will send you a cute packet and you get to try for some great units from some great authors!!! How cool is that?!