I just love weekends! I get to spend time with my awesome kiddos, rest a little and catch up on my blogging addiction! :)
Today, I have a new addiction! I am joining some great presenters at the Everything's Kindergarten Expo
Finally! A place for just Kindergarten! (Don't you hate when you attend a workshop and it's K-12 or K-5 and they spend more time on the upper grades than on Kindergarten or First?)
Here are the awesome presenters:
And if you can't watch it today, you can watch it whenever you have time! I attended another Expo and have been going back and catching up lots of times! Love that!
I was given the Favorite Follower Award from Lil' Country Kindergarten! Wow! Really... Me? I love her blog! I am addicted! (Well, I have mentioned before that I am a blog addict, so if you are new, you can read about my addiction here) If you have visited Marlana, you are completely missing out! She is wonderfully sweet and creative! Love her!!!
Well, winners of this rockin'
award pass it on to four of their favorite followers... the ones who are always sure to leave some love, and who make you feel really good about whatever it is you posted!
Wow! This is hard for me! I am very

BLESSED

to have so many wonderful followers that love on me! I guess my top ones would be....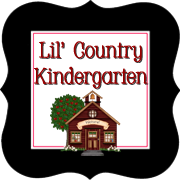 **(yes, Marlana, I am giving it back to you for always being so supportive! Thank you!) :)
Lots of smiles today!! I Love Saturday!!
Okay, guess I really need to stop blogging.... Today is my Husband's birthday and he has begged me to stop for one day.... (Will I make it???)
Sweet

Blessings

for a Sweet Weekend to you!!! :)